Face Mask Detection Solution
Monitor the use of protective face masks
Mask detection technology can be found in a variety of solutions. It uses an AI algorithm to analyze face shape data to detect if a person is wearing a face mask. Based on the detection result, actions can be defined, for example, a voice prompt or a link to an access system to deny entry.
This means it's quicker, easier, and safer to monitor people passing through a space to check they have face masks. The solution's flexibility and easy deployment means it is useful in various scenarios where multiple people pass, like transport hubs, offices, warehouses and large shops.
In a scenario where face masks are mandatory, or even recommended, this provides a simple way to monitor the situation, or even to remind people of the rules.
Solution 1: Mask Detection with Camera
Mask Detection with AcuSense camera
Use of an AI-enabled AcuSense camera to accurately detect masks.
AI Mask Detection
Up to 8MP resolution
Strobe Light & Audio Alarm
Built-in speaker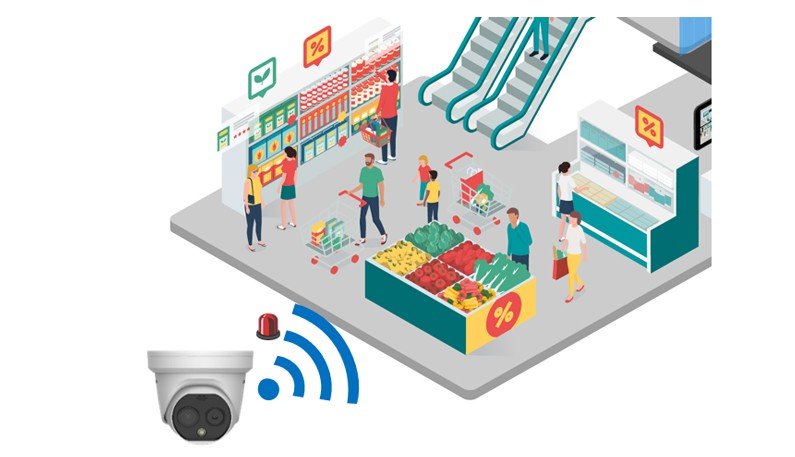 Mask Detection with Thermal camera
Mask Detection can be a useful add-on feature to supplement temperature screening in a thermal camera.
Mask detection
AI Detection for Fast Temperature Screening
Audio warning for abnormal temperature/li>
Solution 2: Mask Detection with DeepinMind NVR
Detection is managed by the AI-enabled NVR, so any camera can be used – great for upgrading existing systems.
'No Mask' alarm on Local & HikCentral
Visualized GUI
Real-time audio notification (HDMI/audio out)
Efficient search by 'mask present'
Solution 3: Mask Detection with I Series NVR
The I-Series NVR provides live detection statistic reports through a great central management system – great with multiple sites to manage.
'No Mask' Live Statistics
Visualized GUI
Real-time audio notification (HDMI/audio out)
Efficient search by 'mask present'
Solution 4: Mask Detection with HikCentral
HikCentral HikCentral is a powerful centralization tool to combine benefits from DeepinView, AcuSense and Thermal cameras into one place. It's flexible, scalable, reliable, and powerful , providing seamless monitoring for efficient situation management, including Mask Detection.
'No Mask' Live Statistics
'No Mask' Alarm Alert
'No Mask' dashboard
Watch Video Demonstration